Google Translate is one of the most common choices for translation. It supports a relatively large number of language pairs. However, it has never been intended for business use, and it is not capable of supporting multilingual SEO. By design, it is not intended for collaboration and doesn't retain your source text's formatting. There are many finer alternatives to Google Translate available today for meeting your translation needs. Compared to Google Translate, these alternatives have proven to be a far better choice for use cases requiring more context during translation. Most of these alternatives offer translations in the form of consumer-facing applications, web interfaces, and APIs for websites and marketing materials.
DeepL Translator
The DeepL Translator supports 31 languages and produces natural translations that preserve the tone and context of the source content. It is designed based on advanced neural network models, and the translation services are offered in the form of consumer-facing applications as well as translation APIs. This translator has a simple and intuitive user interface, and the translations can be done offline as well. Users can translate the text directly within the application without an internet connection. This translator does not have integrated search capabilities The free version of DeepL supports 500,000 characters per month, and DeepL Pro has many advanced features like unlimited text translations, translation of the whole file, expanded customization options, and enhanced data security. With DeepL's JSON-based Rest API access, you can implement this translation technology in a variety of applications and create flawless translation output.
Also Read:- Best DeepL Alternatives
Yandex
Yandex Translator is powered by the Russian search engine of the same name. It supports approximately 98 languages and is an excellent choice for Russian language pairs. The translation service is available in the form of consumer-facing applications and translation APIs. The cost of using the API is nearly one-fifth of the cost of using Google Translate. Yandex has a user-friendly interface, and even though the translations are of good quality, it fails to assimilate the cultural context of the translations. This translator supports platforms like Web, iOS, MacOS, Android, etc.
MoxWave
MoxWave, the neural machine translation system from Process Nine, is a comprehensive solution that can provide high-quality translation outputs without compromising your data security.
This translator, which is based on advanced artificial intelligence and machine learning technology, produces high-quality translations in any language of your choice. It comes with the option to be consumed as a translation API integrated with your client-end infrastructure and also to be used for the translation of individual files through its custom-designed portal. The centralized integration of MoxWave enhances workforce optimization in a multi-departmental environment. Once integrated, every piece of data in the source document is marked and triggered for translation, eliminating any need for manual extraction of data or ingesting the translated files back into the system. During the translation of a website or mobile application, the incremental strings are kept up-to-date without any manual oversight, maintaining the sync in all languages. The duplicates are managed via translation memory, and the need for zero manual intervention increases the efficiency and turnaround time of the translation. With MoxWave, you can predetermine the quality of translation needed and the turnaround time for translation based on urgency. The users can define the text that needs to be transliterated and translated into specific formats.
Linguee
Linguee is a popular and user-friendly translator that supports up to 25 languages. It provides contextual-based translation outputs and example sentences from a wide range of sources. It also provides alternatives from external sources. However, the alternate translations are unverified and can be considered only as a source of comparison to find the correct answer. This translator can be used on the go and offline as well. It has an integrated search function with audio output. This search engine is suitable for researching technical terms and creative formulations. The founder of Linguee, Jaroslaw Kutylowski, launched DeepL in 2017.
Reverso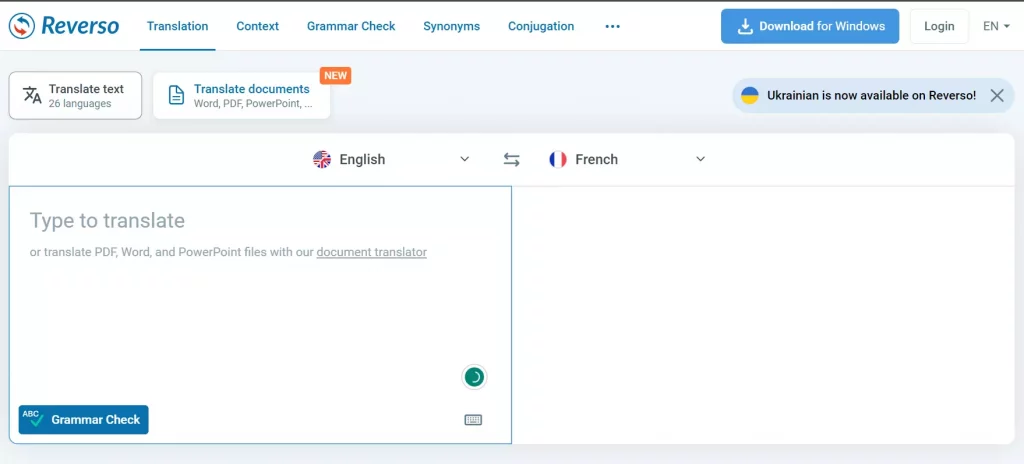 Reverso Translator supports 26 languages and produces quality translations along with example sentences based on the translation query. It does a spell check for autocorrect and a conjugation check for multilingual verbs. The translation service is available in the form of the Reverso context mobile app as well as the translation API. With free registration, the translator offers additional features such as word saving, search history, more example sentences, and so on. The fee-based service of this translator is called Reverso Localize, which can be used to translate, audit, and edit websites. This paid translation service allows the localization of CVs, documents, presentations, etc. The user can browse online resources like websites, encyclopedias, etc. and also do image searches during translation. Registered users can do additional reviews and corrections of translations
Dict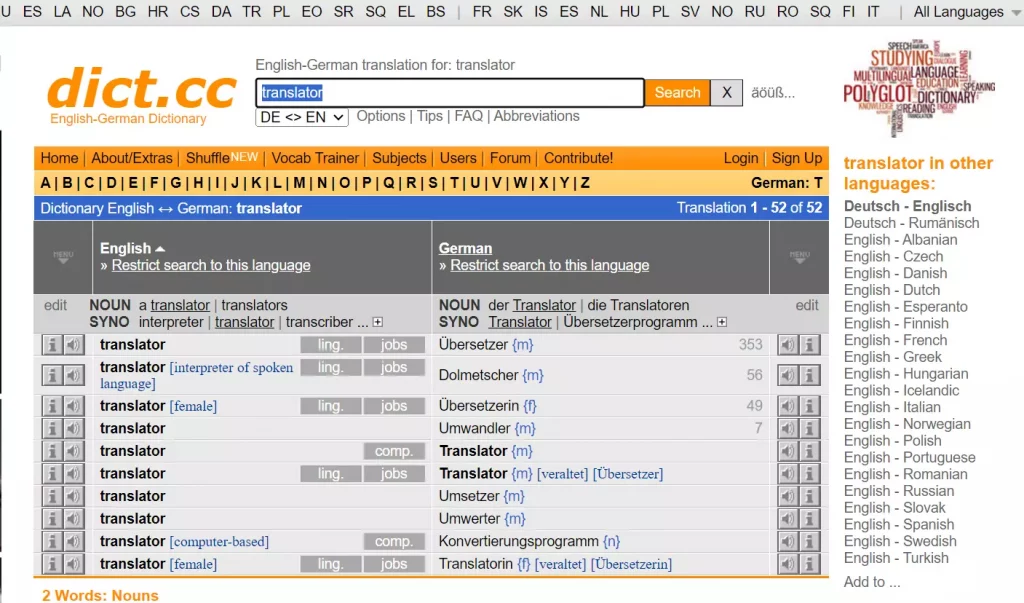 Dict Translator supports 27 languages and is available in the form of a browser plug-in and translation application. The vocabulary of this translator can be downloaded for offline use, and it has a vast collection of synonyms as well as phrases. While the translator has a decent database for a detail-oriented translation, the user interface is not appealing. There is no integrated search engine feature, and any additional feature is available only to registered users. There is a community forum available for assisting in translations. It provides a vocabulary trainer with word saving, an audio feature, and links to other dictionaries. The translator offers comparisons with online directories and portals like Wikipedia.
Microsoft Translator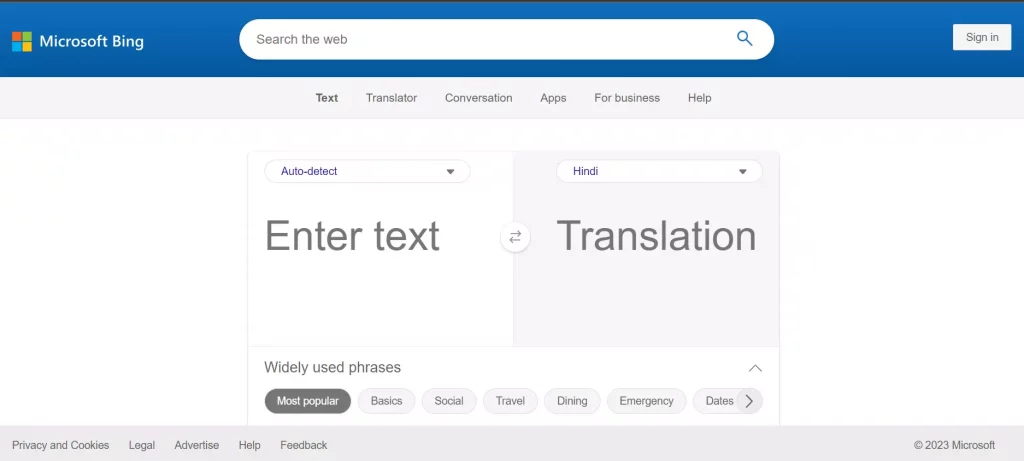 Microsoft Translator, also known as Bing Translator, is a feature of the Bing search engine. It supports over 103 languages. The free version of this translator supports 50,000 characters per translation request across all target languages. It also offers additional translations along with synonyms. In terms of personal use, this translator can translate in-conversation menus, street signs, etc. Using the translator API and speech services, this translator is ideal for removing language barriers during business interactions. With the speech API for chats, Microsoft Translator supports multilingual conversations in real-time. This translator's Try and Compare function is used for comparing complex terms and longer sentences. The AI-powered features of Microsoft Translator analyze the algorithmic and grammatical accuracy of the translation. With individual language packs downloaded, you can access Microsoft Translator offline as well. The advanced features of Microsoft Translator can be accessed on a pay-as-you-go basis. The translator is free of ads and does not have an integrated search feature.