Role of digital banking in the economic growth of India.
In October 2022, Prime Minister Narendra Modi stated that the economic growth of a country is as progressive as its banking system. While launching 75 digital banking units, he highlighted that the digital banking system in our country is completely focused on transparency and follows a self-driven mechanism, providing autonomy to customers and convenience and transparency to banks. Through the digital banking units across our country, our government plans to create a secure, paperless, and efficient environment to render banking services.
While the government encourages a digital-first approach to banking services, the important question is
"Is this approach enough to pave the way to successful digital financial inclusion in India?"
According to the economic survey 2022-2023, 65% of our country's population lives in rural areas, and 47% of the population relies on agriculture for a living. Although the government has urged small business owners in rural communities to adopt digital transactions, it shouldn't come as a surprise that doing so for a local language-speaking retailer in our villages requires a significant leap of faith even now.
Digital financial inclusion in India-Reality vs Possibility
The Digital Divide: India Inequality Report 2022 points out the inequality that prevails in accessing digital technology in our country. According to this report, the richest 60% of India are four times more likely to use digital payments when compared to the poorest 40%. There are many people in the scheduled caste, scheduled tribe, and backward classes who are still least likely to use formal financial services. Our country predominantly had a cash-dominated economy. Over the last few years, there has been a fair improvement in digital transactions; however, adding marginalized communities to the mainstream economy is still a distant dream.
Along with financial literacy, communicating with these customers in their language would go a long way toward encouraging them to switch to digital financial methods. From the time a bank acquires a non-English customer, providing them with encouragement and support through localized online platforms, vernacular ads, AI-powered online guidance tools, chatbots, etc. would help in gaining their trust as they embark on the digital financial journey. In a multilingual, multi dialect country like India, localizing the banking services in a language or two would not serve the right purpose. A scalable language technology solution that can provide localization services in every Indian language while keeping in mind cultural and linguistic nuances would be the correct choice.
In 2015, when Jan Dhan Bank launched a scheme for opening bank accounts for marginalized communities, many of the accounts that were opened turned out to be dormant over a period of time, resulting in a loss for the financial institution. In order to make new users confidently use digital banking services, it is important to ensure that they have the right knowledge and intent. In short, as long as digital initiatives in the banking sector do not follow a multi-dimensional approach, successful digital financial inclusion might just remain a possibility and not a reality.
'Serve in my language' – says the Urban customer
Over the past few years, the hashtag #serveinmylanguage has gained popularity on social media sites like Twitter. Many users of this hashtag post screenshots and images expressing the need for banking services to be available in their native tongues, urging financial institutions to realize that simply localizing their services into one or two additional languages will not accomplish the desired results.
@ICICIBank @ICICIBank_Care why do you send me ads in hindi when you know I'm in Karnataka and we speak kannada. You should be sending ads in #kannada . Respect our language . #serveinmylanguage #stopHindiImposition pic.twitter.com/CYQsqMF4TI

— manjunath (@manjuna30613995) May 18, 2023
@TheOfficialSBI next to mandya PES college.. where is Kannada language option. ಕನ್ನಡ ಎಲ್ಲಿ? #serveinmylanguage pic.twitter.com/u33ODctW4W

— Nikhil Gowdru (@Nikigowdru) May 22, 2023
Many social media users highlighted that it would be much easier to handle complex banking transactions, understand terms and conditions for availing loans, block stolen debit or credit cards, etc. if the services were available in their native tongue. This demand from urban customers has prompted many banks to rethink their dual-language approach to localization in favor of a multilingual one.
In 2015, the RBI issued a regulation requiring banks to provide printed materials such as opening books, payslips, passbooks, etc. in a minimum of three languages, including Hindi, English, and a regional tongue, to their retail customers.
Only nine public sector banks, however, have complied with this standard to offer banking services in three languages as of 2022, and the others are still working towards this objective.
Usage of regional languages in banking sector : 9 Public sector Banks have already fully complied with RBI guidelines of providing Trilingual Services (Hindi, English and Local Language ): FM @nsitharaman in Rajya Sabha.@FinMinIndia @nsitharamanoffc @RBI pic.twitter.com/OcPmCRYqtQ

— All India Radio News (@airnewsalerts) December 20, 2022
Last year, the RBI launched Digisaathi, an online tool to help customers get answers to their queries related to digital payments. Even though the website is localized in nine Indian languages, the page's partial localization efforts do reduce its value.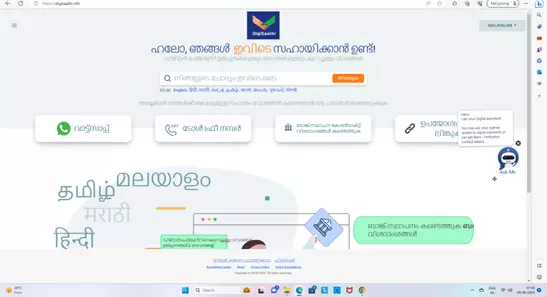 Earlier this month, RBI partnered with IIT Madras to create a multilingual voice banking solution to help the visually impaired and illiterate with their banking needs. The primary objective of this initiative is to eliminate the language barrier that hinders digital financial inclusion for millions of Indians. It's anticipated that the ultimate solution will initially offer secured banking services via voice commands in Hindi, Tamil, Telugu, and English.
The Future-Can multilingual digital banking lead to digital financial inclusion?
By far, it's obvious that a dual language strategy might not be able to turn around digital banking initiatives toward positive growth. While the digital financial journey might still be a huge leap of faith for a rural vernacular customer, urban users also prefer their native tongue while trying to understand the labyrinth of complexities in certain banking services. This digital language divide can be resolved only through effective localization strategies and scalable language technologies that can offer localization beyond just the mere translation of sentences. The rural economy contributed to half of our country's overall GDP in 2019-2020. Rural India can significantly contribute to stellar growth in a digital, secure, and cashless economy in the upcoming years with the right access to online banking services.