What was the impact of e-commerce on the Indian market?
E-commerce has brought revolutionary changes in the Indian market in a very short span of time. The transition in the mentality of Indian customers to switch from offline shopping to online was quite fast. Flipkart, one of the e-commerce giants in India started in 2004 and became 5 times bigger in a span of 10 years. The initial focus of e-commerce business was English-speaking customers in tier-one cities, however, digitization opened up the opportunity to cater to customers in tier-2 and tier-3 cities as well.
While the COVID-19 outbreak posed a major economic challenge in our country in the last two years, the e-commerce market witnessed an unexpected boost. The major contribution towards this growth was not coming from the metropolitan cities, but the tier 2 and tier 3 cities. According to statistia, the Indian e-commerce market is expected to grow from $45,894 million in 2020 to $75,095 million in 2024 with a CAGR of 13.1%. This surge in the e-commerce market is mainly due to low internet costs, affordable smartphones, and a gradual increase in per capita income.
The latest report from TRAI shows that out of the 1.15 billion mobile phone users in our country, 520.1 million users come from rural circles. E-commerce companies have figured that it is vital to completely break the language barrier if they want to tap into this user base from the rural regions. The COVID-19 lockdown caused a major transition in people's approach toward e-commerce. The concept of quick commerce and instant/ one-day deliveries became more prevalent during the lockdown days benefitting many customers with their urgent requirements. In fact, these kinds of delivery patterns have attracted customers so much that they consider the regular delivery timelines to be slow.
What is e-commerce localization?
E-commerce localization is defined as a process of personalizing the content of an online store for a target market. Localization and translation are quite different. When you are just translating content from a source language it is all about getting the spelling, grammar, and message correct in the output. However, localization is all about adapting the language based on the target geography to sync communication with culture. Localization guarantees the right cultural adaptation among the local language-speaking audience and it increases user engagement as well as drives conversions by making the customers feel right at home.
Various markets have distinct cultural characteristics that are accentuated by localization. This includes modifying the content in the e-commerce platform to suit local interests, events, etc… It is obvious that the results are beyond promising when an e-commerce company connects with its target market's sociocultural demands through the use of its own language. Nowadays online store capitalizes on festivals like Pongal and Lohri through specific vernacular marketing campaigns that connect with their audience and monetize on their festival spending spree.
What is the language landscape of India?
India has a rich and vast linguistic landscape. There are 461 languages in India, out of which 447 languages are actively used in communication and 14 languages are extinct. 121 languages are actively spoken in India, and 22 are considered official languages. More than 10,000 people speak at least one of these languages. According to a census conducted in 2011, 96.72% of Indians speak one of the 22 scheduled languages as their mother tongue. Hindi is the language most commonly spoken in India, with 26.6% of the population speaking it. English is considered to be the subsidiary official language and is widely used at the national level.
There has been a huge hike in regional language content consumption in tier 2 and tier 3 cities over the past few years. With the goal of breaking the language barrier further, the government to a landmark decision by mandating the support of regional languages on all mobile phones starting in July 2017.
Why is English widely spoken, yet not commonly preferred in India?
Statistically, India stands second among the top English-speaking countries in the world. 10% of the Indian population (125 million people) can speak English. However, only 2% of them can speak English fluently. There are still 8% of people who prefer a native language for communication over English. In India, 45% of the population can speak Hindi fluently.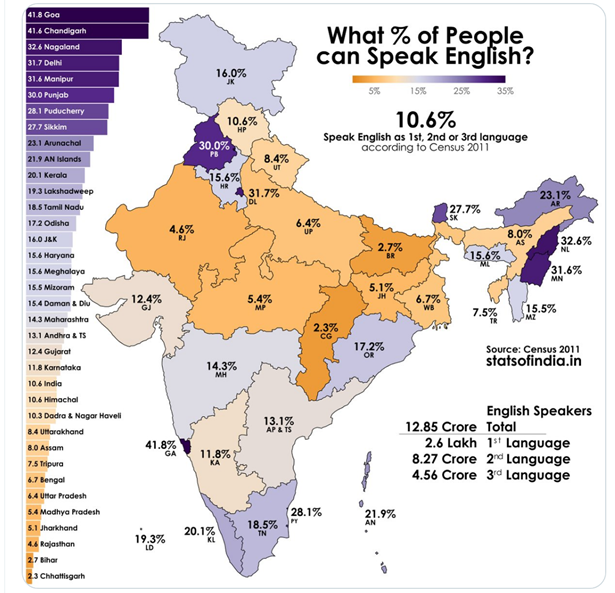 (source:(2) Stats of India on Twitter: "What percentage of people can speak English in every state of India? https://t.co/KVq4zSQjvU" / Twitter)
A recent market study shows that English-only websites reach less than 25% of worldwide internet users and 56.2% of consumers believe that obtaining information about the product in their own language is more important than the price. According to a recent report from KPMG, the local language user base in the Indian e-commerce market has a CAGR of 32% and is expected to add another 120 million in the next five years. In short,  the mass preference for native languages in' Bharat' even in the digital era shows that the idea of consuming content in a 'language of choice' is going to prevail.
What are the localization success stories in the Indian e-commerce market?
There are 1.5 million users visiting the Flipkart platform using local languages every day. According to Mayur Datta, Chief Data Scientist, Flipkart in Q4 2020 the vernacular user share of Flipkart was 12% and by Q4 2021 it increased by 18%.  In 2020, Flipkart conducted an ethnographic study on users who preferred three Indian languages namely Tamil, Telugu, and Kannada, to analyze consumer behavior and spending potential. The outcome of this study showed that the participants had an increased affinity towards using the right proportion of translation and transliteration in the local language version of the platform.
According to Kishore Thota, Customer Experience and Marketing Director in Amazon India, after launching the Hindi language in 2020, they witnessed a 3x surge of new customers in the initial five months. They also noticed that the existing customers have increased their frequency of purchase once the content started getting served in regional languages. In one of the 2020 prime day sales of Amazon, more than 60% of the customers came from outside the top ten cities. By the end of 2021, more than 5 million customers have started shopping from Amazon in Indian languages. Amazon India is currently available in eight Indian languages namely Hindi, English, Kannada, Malayalam, Tamil, Telugu, Marathi, and Bengali. They have also introduced seller registration and account management services in Indian languages.
The e-commerce platform Meesho saw a 20% adoption rate to date after introducing Hindi in 2020. The tier 2 customers add up to 80% of the total userbase of Meesho and their transacting user base has increased by 5.5 times since March 2021. The company has a customer base in cities like Ahmedabad, Vadodara, Jamshedpur, and other non-English speaking states where Hindi may not be the language of choice. Therefore last year Meesho added Bengali, Telugu, Marathi, Tamil, Gujarati, Kannada, Malayalam, and Odia to their e-commerce platform. The company aims at reaching out to a potential user base of 377 million through its extensive localization efforts.
What is the future roadmap of-commerce localization for the Indian market?
Since 2020, the key focus of e-commerce companies has been on expanding their 3V strategy, Voice, Vernacular, and Video. In the last few years, several e-commerce platforms incorporated voice-powered shopping features. Flipkart made this feature available in two languages namely English and Hindi and amazon created voice-enabled vernacular interfaces in six languages.
According to a survey done by The economic times, 49% of people enjoy voice assistant-aided online shopping experience and 30% are keen to try it out. The voice-enabled multilingual shopping interfaces are expected to be a major factor in expanding the Indian shopper base to 400-450 million by 2027.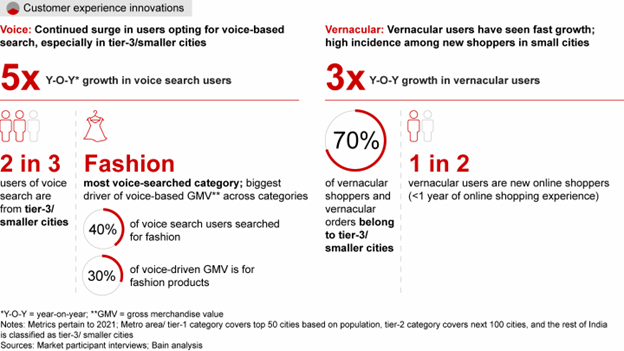 (Source: How India Shops Online 2022 | Bain & Company)
According to the research done by Bain & Company, 2 out of 3 users of voice search are from tier 3 cities and there is a 5X year-on-year growth in voice search users. 70% of the vernacular shopping and orders are also coming from tier 3 cities where 1 out of 2 vernacular users are new online shoppers. In 2022, users from tier 2 cities contributed to half of the festive online gross merchandise value.
E-grocery is another segment that has been gaining traction and it witnessed 2x growth from the last festive season. Zomato is currently available in eight vernacular languages namely Hindi, Marathi, Bengali, Gujarati, Kannada, Tamil, Telugu, Malayalam, Odia, and Punjabi. They have also recently added voice technology for providing delivery instructions to the executive in a language of their choosing.
With the majority of internet users having a short attention span, short-form vernacular video content is expected to have a major impact and retention value in the coming years. According to experts, customers are likely to recall a brand or remember a mega online sale by viewing the short videos in their own language. As a final note, the Indian e-commerce market in 2023 holds a lot of promise if companies can consistently communicate with their audience in a language of their choice, because "vocal for local" is here to stay.